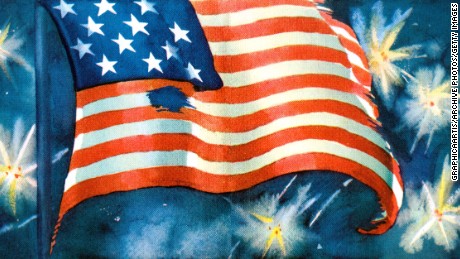 (CNN)Quarterback Colin Kaepernick's refusal to stand for the traditional pregame singing of "The Star-Spangled Banner" in protest of racism in the United States is proving to be a potent attack that will add a vibrant chapter to the fascinating history of the US national anthem.
As detailed in Marc Leepson's recent
biography
, Key put his skills and reputation as a lawyer at the service of blacks suing for freedom, most notably in an 1825 case of the slave ship Antelope (a precursor of the Amistad). Speaking to the US Supreme Court, Key described the treatment of slaves as "extreme cruelty" and slaves as "unhappy victims." Key said that those aboard the ship "are men, of whom it cannot be affirmed that they have universally and necessarily an owner." Key lost this case, but most of the enslaved captives were returned to Africa a moral, if not legal victory.
Key also lost cases for Sally Henry, a woman named Kitty, and William Jordan. They remained enslaved, but Key won the freedom of Harry Quando in 1830 and Joseph Crawford in 1834. Typically, he undertook these cases gratis, without expectation or potential for payment of legal fees. Key even led a fundraising effort to help defend a man, woman and child represented by an abolitionist lawyer.
On the other hand, Key also represented slave owners as clients suing in court for the return of their then-legal "property." In Key's professional career, the matter often seemed a legal one. Those illegally enslaved should be freed. Those legally slaves had to be freed by their owners voluntarily or purchased and released from bondage. Any moral objections Key had against slavery were often shamefully set aside at times in his legal practice.
Thus, it is remarkable that the fourth verse of "The Star-Spangled Banner"
begins
with this opening line: "O thus be it ever, when freemen shall stand between their loved home and the war's desolation." When Key used the word "freemen," he used a legal term encompassing any man who was free, that is both blacks and whites. As a lawyer, Key used language precisely.
It is thus my belief that "The Star-Spangled Banner" encompasses all Americans; not only is Key's use of the word "freemen" surprisingly inclusive, but because nation and song have both changed if imperfectly since it was
written
. As our nation's anthem, it can and should be sung by any and all for everyone.
The history of "The Star-Spangled Banner," like the United States as a whole, is convoluted. The lines between justice and injustice are crisscrossed by crippling social blindness that each era must own and overcome. Conlin Kaepernick's protest draws our attention to the unvarnished fact that today many Americans feel that the "home of the brave" is not necessarily their "land of the free."
Yet America's history and thus America's anthem can be powerful tools to achieve a better understanding to learn about ourselves and to imagine a better collective national future. To sing "The Star-Spangled Banner" can be to explore our history if one gets beyond rote singing to consider Key's song and its history. For this inspiration of a national conversation, I am grateful to Colin Kaepernick.
Read more: http://www.cnn.com/2016/08/31/opinions/star-spangled-banner-criticisms-opinion-clague/index.html